[This article was first published on torque.com.sg.]
The Mitsubishi Attrage compact sedan was first launched in Singapore in the last quarter 2014, and the Thai-made ride swiftly earned a reputation for offering excellent value for money.
Even when Certificate of Entitlement (COE) premiums were well above $60,000 at that time, the Attrage remained priced below $100,000, which made private car ownership accessible to drivers and families on a budget.
However, its desirability took somewhat of a dent from 2016 when it was specifically marketed to private-hire drivers.
There was even an aggressive loan scheme providing up to 90 percent financing repayable over 10 years, higher than Monetary Authority of Singapore's car loan caps at that time.
This lead to numerous Mitsubishi Attrages with the distinctive blue private-hire sticker populating Singapore roads.
Today, driving private-hire cars is becoming less attractive as a vocation. Now, the question then is whether the facelifted Attrage – with its makeover and equipment upgrades – can turn the tide and regain its desirability among private car buyers.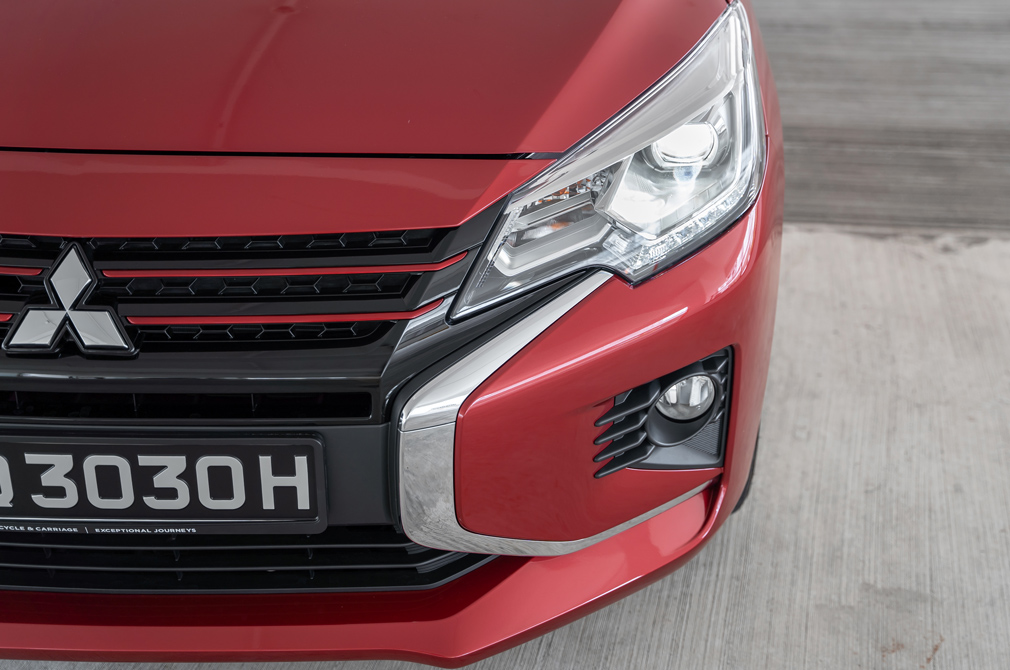 COSMETIC MAKEOVER
The Attrage has undergone plastic surgery all round. It gets a completely redesigned front grille with sporty red horizontal accents and LED headlamps with daytime running lights.
At the rear, the LED tail lights also gets a redesign. These cosmetic tweaks give the car a refreshed and more distinctive presence over its rather plain predecessor.
EQUIPMENT UPGRADES
Even before the facelift, the Mitsubishi Attrage impresses with its high equipment levels, including keyless ignition, steering-wheel mounted audio controls, an integrated centre panel for air-conditioning and a remote key that pops open the boot.
The facelift adds more amenities, such as cruise control and a 7-inch infotainment display with touchscreen controls.
I do not have the habit of reading brochures or checking technical specifications before and during test drives, and I was pleasantly surprised that the infotainment system is compatible with Apple and Android phones when I plugged in my Samsung phone.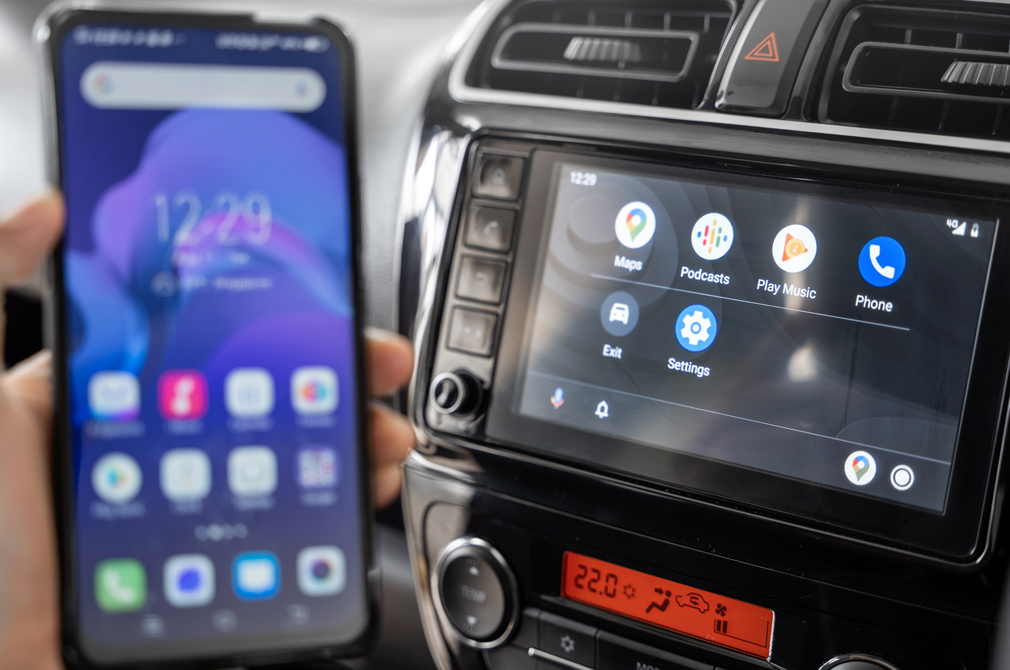 This allowed me to use Waze to get to an unfamiliar destination in Selatar when I was test driving the car.
This is an important feature for app-reliant smartphone users, and it tops my list of "must-haves" in any car. This amenity is missing in some cars that cost more than the Attrage.
On the safety front, the Mitsubishi Attrage is not shoddy either – it comes with six airbags, seatbelt pretensioners for the driver and front passenger, and the usual suite of anti-lock braking system, active stability control and electronic brake-force distribution.
And like its predecessor, the Attrage retains its practical 450-litre boot, which is more than ample for weekly grocery runs and a foldable bike.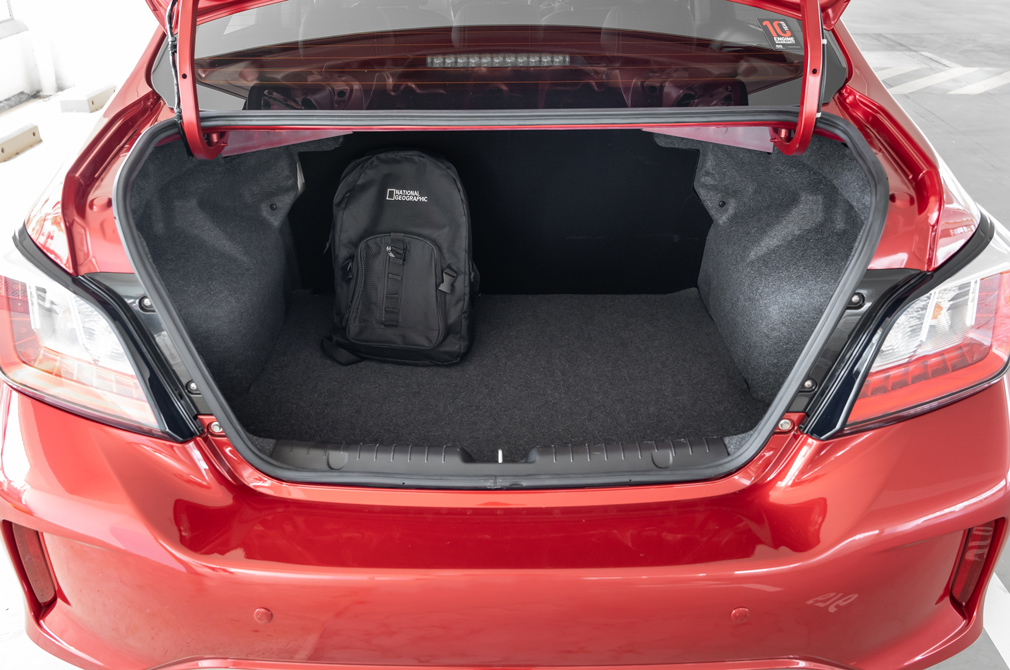 IMPRESSIVE FUEL ECONOMY
The facelifted Attrage carries over the 1.2-litre powerplant and continuously variable transmission of its predecessor. Its 1.2-litre naturally aspirated engine is the least powerful among cars currently on sale in Singapore.
The test car averaged a credible 17.3km/litre over a three-day test drive – not too far off the official figure of 20.4 km/litre.
This was due to three reasons.
One, there is a tiny but visible "Eco" icon that lights up when the car detects that I am gentle in the way I drive. It provides a simple yet effective reminder to drivers to go easy on the throttle.
Two, it is clear from the moment I drove the test car out of the Mitsubishi showroom in Alexandra that there is no point driving the Attrage enthusiastically.
It is just not meant to be driven that way. Aggressive prodding of the throttle brings a loud protest from the drone-y power plant, but it does not correspond to rapid acceleration.
Three, the car weighs just 945kg, which is as light as the Suzuki Swift hatchback (940kg) and lighter than the Mazda 2 sedan (1102kg).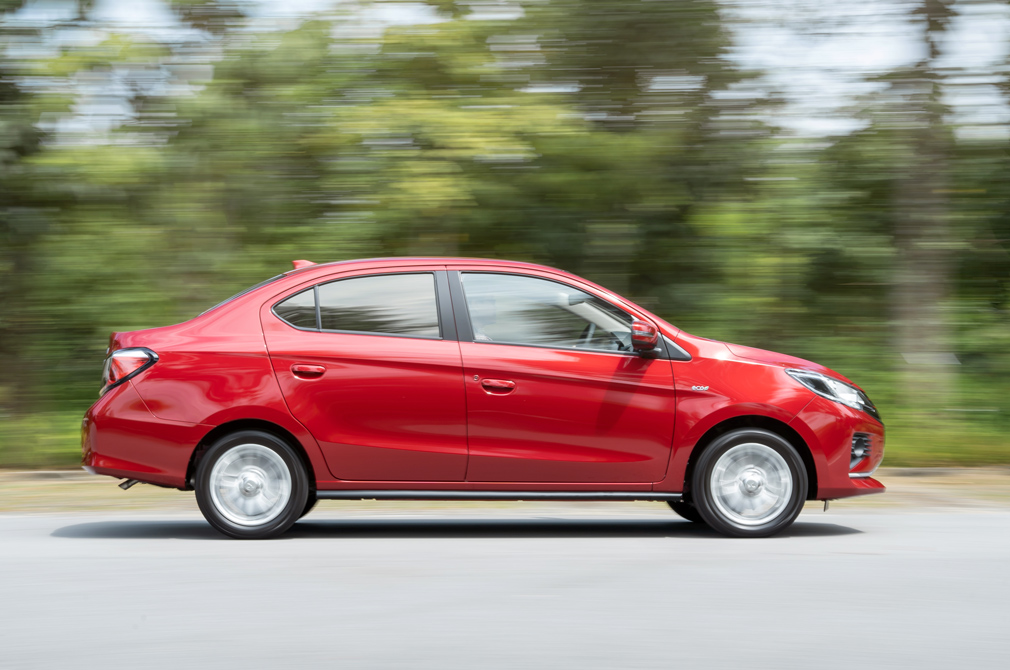 TWO MINOR GROUSES
I have two minor grouses with the Mitsubishi Attrage.
The headlights do not switch on automatically at night, which is a common feature that is arguably needed for safety. So, I decided to leave the headlights on for most of my test drive, even during the day.
Thankfully the headlights cut off when the engine is switched off, preventing them from draining the car battery.
I also struggled to find a comfortable driving position. After fiddling with the driver's seat, I discovered why.
The driver's seat is height adjustable, but the height adjustment moves only the seat cushion up and down, not the entire seat. This means that raising the seat cushions shortens the length of the back support.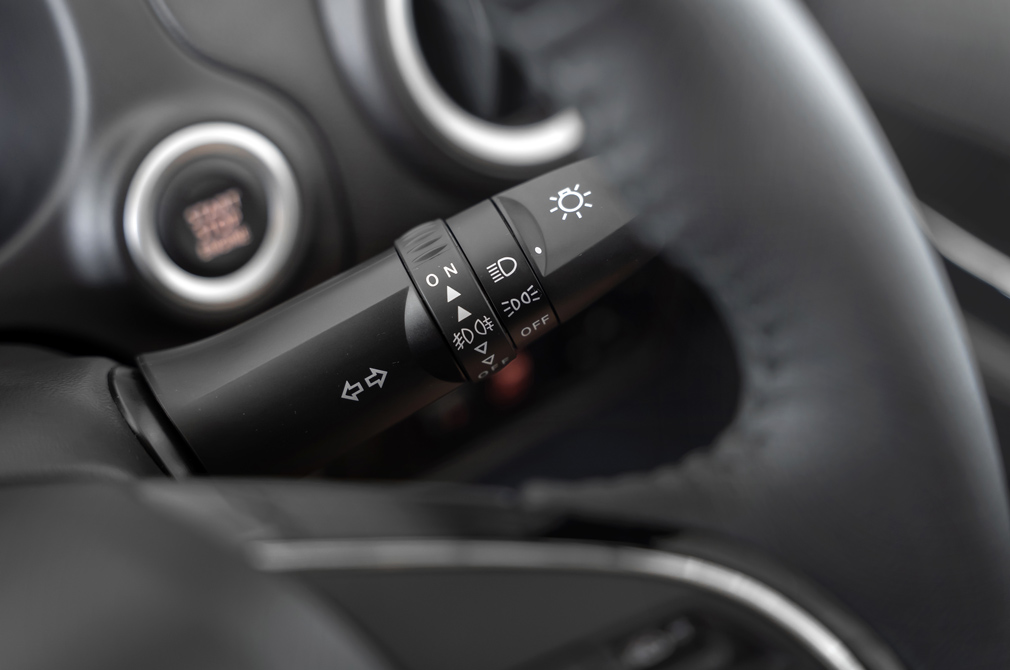 CONCLUSION
These niggles aside, the Attrage remains fundamentally fit for its purpose, which is providing affordable motoring for drivers such as first-time buyers or retirees.
And at under $70,000 with a relatively high equipment level, decent safety gear, 10-year engine warranty and a respectable badge, the Attrage offers unrivalled value for money.
And during the current recession where the coronavirus pandemic has sent the economy into a tailspin and belt-tightening is the sensible thing to do, the Attrage becomes more appealing and compelling than before.
[Source article: torque.com.sg/reviews/mitsubishi-attrage-review-fit-for-purpose/]