We get the lowdown on urban farming from Cynthea Lam, wellness coach and founder of Super Farmers, as she takes the Outlander for a weekend spin.
Urban farming is currently experiencing another boom as people spend more time at home (amidst the pandemic). Some are taking up gardening for its therapeutic benefits while others, for the promise of having their own edible garden. We caught up with Cynthea Lam, founder of Super Farmers and Mitsubishi Outlander superfan, who tells us more about her company, urban gardening in Singapore, how to live a holistic lifestyle, and her experiences with the Outlander.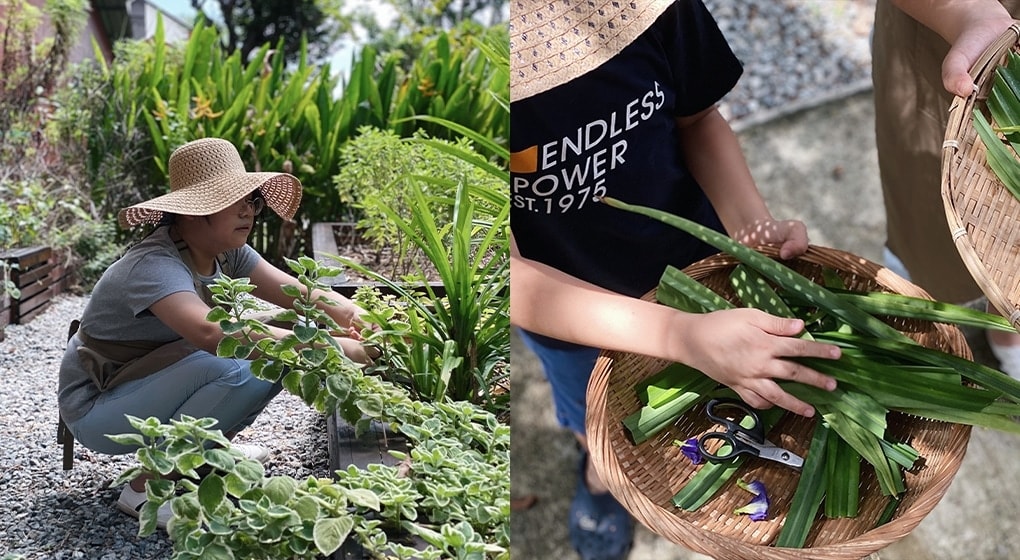 Cynthea and her family at Super Farmers harvesting some greens to bring home.
Let's start with a brief introduction to how you founded Super Farmers. Why and how did you start?
I founded Super Farmers in late 2014 after my daughter had a near-death experience with food colouring when she was three. That episode really got me thinking about food and where it comes from, how it's made and grown. I pursued a childhood nutritional course and took my daughter out of the school system for six months to nurture her back to good health with unadulterated food and lots of love. That was when I realised that many people around me had the same concerns about health and the food we eat – that motivated me to do something.

I started Super Farmers to show everyone how they can eat and live well and how they can grow some simple edible plants at home. I began by running workshops, which I still do.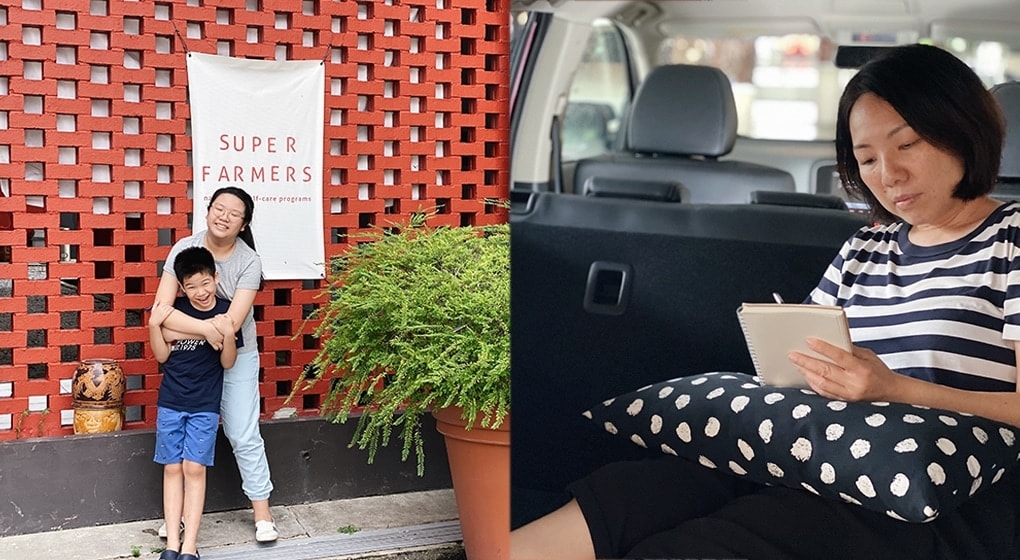 The family waits for sunset and Cynthea takes this time to pen down her thoughts. The Mitsubishi Outlander's roomy interior means you can easily create more space by simply folding the third-row seats down.
Why the name "Super Farmers"?
We're all farmers of our own lives; we plant seeds of thoughts, we nurture ourselves and we reap what we sow. I hope to make everyone realise how extraordinary they actually are and that there is no other person more perfect than themselves – this is what makes people really super! Super Farmers is my spin on growing food while growing the soul. Our business is about emotional and nutritional wellness.
How has the urban farming scene changed since you founded Super Farmers?
Urban farming was the rage back then. Many people tried to get onto the bandwagon but many also fell off. They are fuelled by the novelty factor at first, but realise it isn't as glamourous as portrayed. After all, it's a high-investment, low-margin business.

These days, many wish to have food gardens in their offices and homes, without really knowing what it entails. I've had companies approach me to offer empty spaces in their buildings for free, in exchange for our services to convert these spaces into a food garden for their staff to enjoy. That's basically asking for two free things!

The good news is, more big organisations like Panasonic are paving the way with large-scale urban farming technology, and the government is also spearheading such movements of food sustainability in Singapore – most recently distributing free seeds to residents who signed up for it. These initiatives help to educate the people about the importance of food security and create more opportunities in this industry.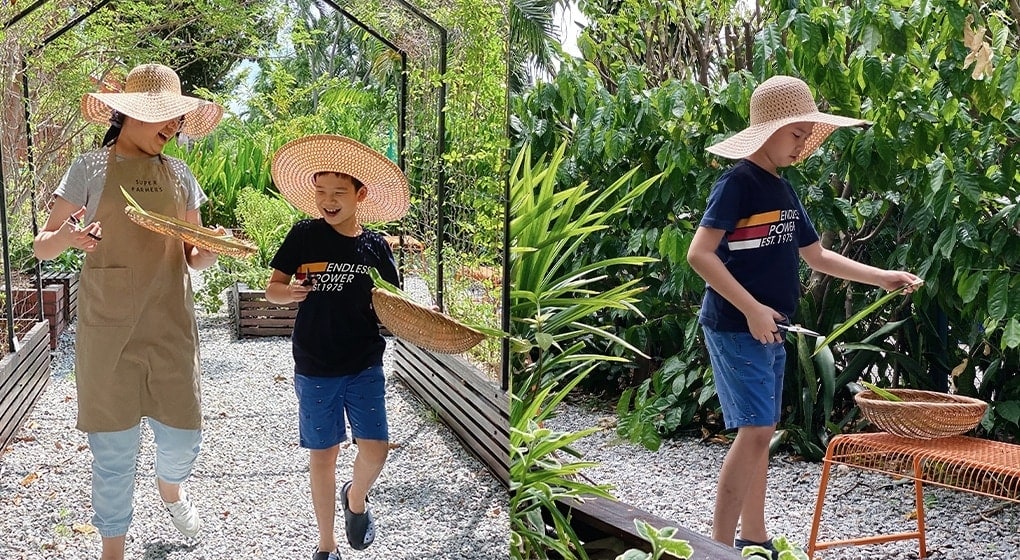 According to Cynthea, plants make great teaching aids as they are therapeutic and we can gain so much wisdom from them.
Can you tell us some of the benefits and healing properties of food?
Actually, it's not just the food. The true benefits and healing properties of food exist in balance – it's truly the key in every facet of life.

We are drawn to what brings comfort, and we cannot force ourselves to eliminate comfort from our lives. Deprivation always creates more mental disturbance. For instance, if you're feeling low, and all you can think of is devouring a plate of fried chicken wings, then please have some with no guilt. After that, you can make yourself a healthy meal for dinner and feel good about it.

This is healing – the ability to grasp the concept of balance, having no guilt and understanding that all kinds of foods (yes, even deep fried chicken wings) have nutritional value.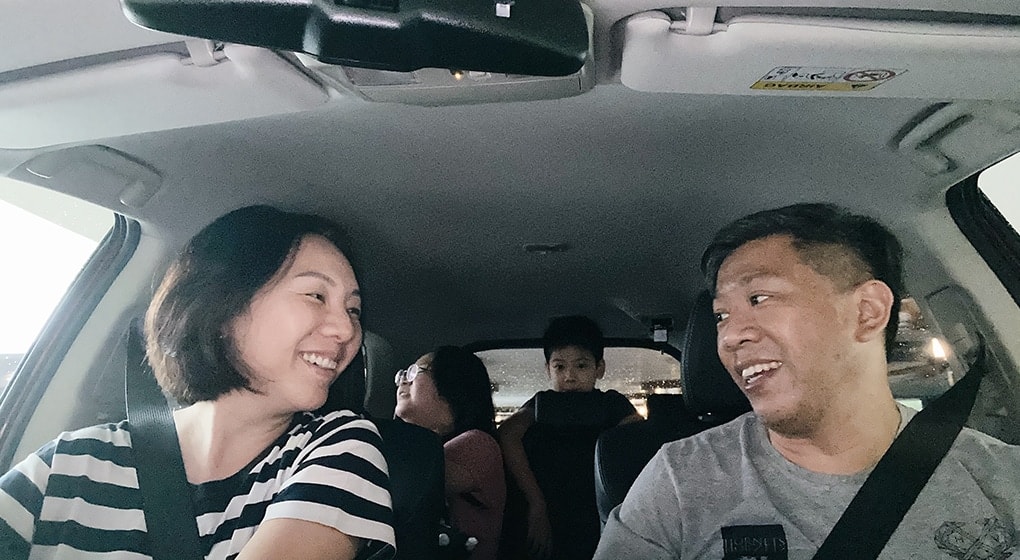 There's space for the whole family in the roomy 7-seater SUV.
What are the 'must-have' edible plants with healing properties to have in a home garden?
The plants I grow in mine are:
- Peppermint, Cologne Mint and Spearmint: I like mints for their ability to digest greasy meals and break down the feelings of nausea quickly.
- Thai Basil and Sweet Basil: Basils are adaptogens (non-toxic plants) and are efficient at protecting our cells from our environments, medication and stress.
- Pandan and Lemongrass: These two are my everyday digestives – they help to purge out excess gas and soothe bloatedness.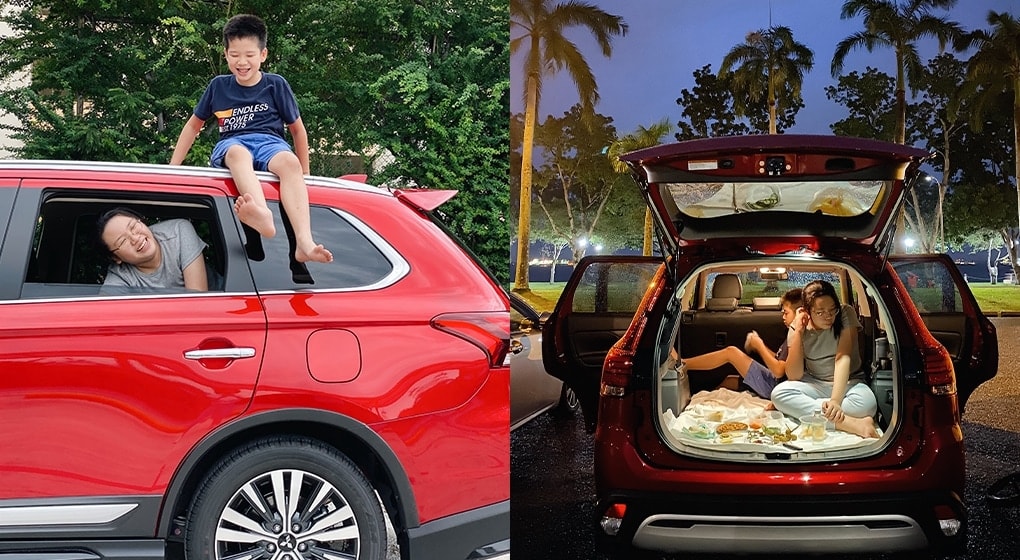 A leisurely drive around the island while looking for that perfect spot for a car boot picnic.
What are some of the common challenges that people face when trying to live a more holistic lifestyle, and how do you motivate them to weather these challenges?
The biggest misinformation is that living a holistic healthy lifestyle is all about eating 'right' and that it requires deep pockets. There's also an association with organic produce, expensive grain bowls, and cold-pressed juices. But in the long run, such ideals are not sustainable.

It's also not all about food because we are made up of mind, body and spirit. In fact, I'd place a heavier emphasis on the mind and spirit. As the saying goes, "Your mind can move mountains", so if someone only focusses on eating and exercising well but isn't addressing the issues in their mental space, they linger and may even manifest into physical symptoms.

My role as a Wellness Coach is to assist them on their healing journeys, to provide knowledge and share wisdom of how we can live well holistically. I do this is by breaking everything down into simpler ways.

Any advice for urban farming novices?
Understand the factors that make plants flourish and then look for a spot in your home that supports that. You can also watch a ton of videos and look it up on the internet and get going.
The basic things you would need:
- Soil
- Seeds
- A pot (with holes underneath)
- Water
- Sunlight
Our vegetable microgreens Urban Farming kit is designed to simplify the experience such that even kids can grow them! Microgreens are also highly nutritious and wouldn't need much space and sunlight to grow, making it easy for beginners to accomplish a growing project. They also make perfect gifts for someone who needs some cheering up. You may get some from our website.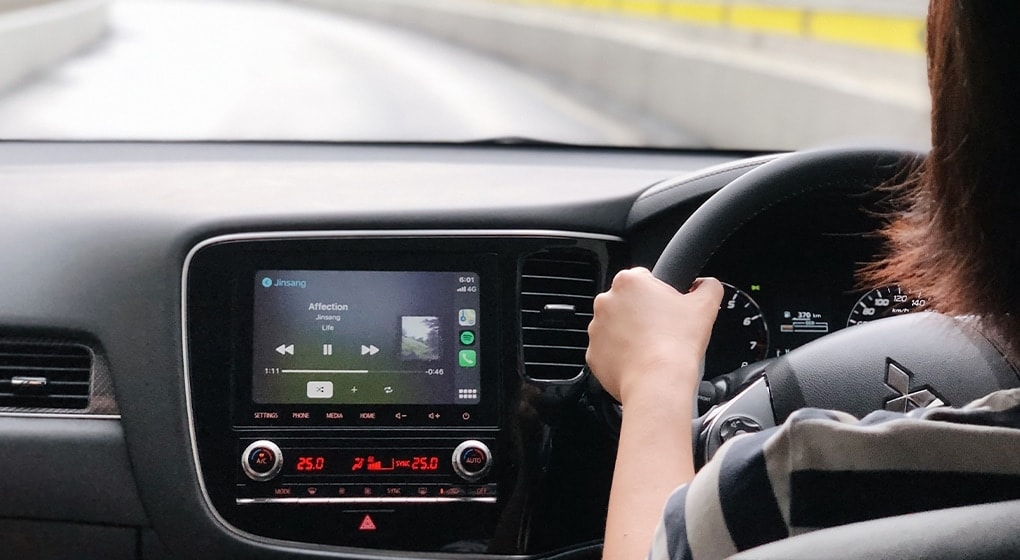 One of Cynthea's favourite car functions is the Outlander's Apple CarPlay™ connectivity which allows her to access her iPhone apps without taking her eyes off the road.
You're very familiar with the Mitsubishi Outlander as it's your top pick when renting a car overseas. What is it about the Outlander that makes it your first choice?
When driving long distances especially on routes with less proper roads, an SUV is something that enhances the experience (as compared to a saloon car).

As I'm always travelling with my kids in tow, safety is of utmost importance to us. I know I can trust Mitsubishi when it comes to that. The massive boot space allows us to convert the back into a sleeping area for them where they can have naps (and even meals). Some destinations take us a few hours to drive to, so this is a very important point for people with kids.

The Outlander is also priced nicely in the mid-range, making it a no-brainer when selecting wallet-friendly 7-Seater SUVs.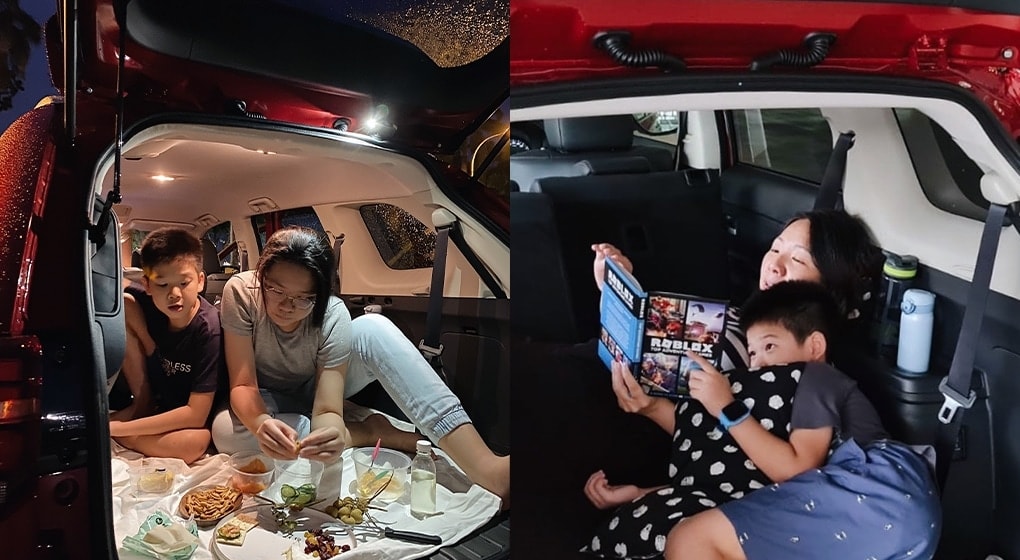 The 7-Seater SUV's flexible seating arrangement means you can create more space if you need it – in this case, dinner and some quiet time with the kids.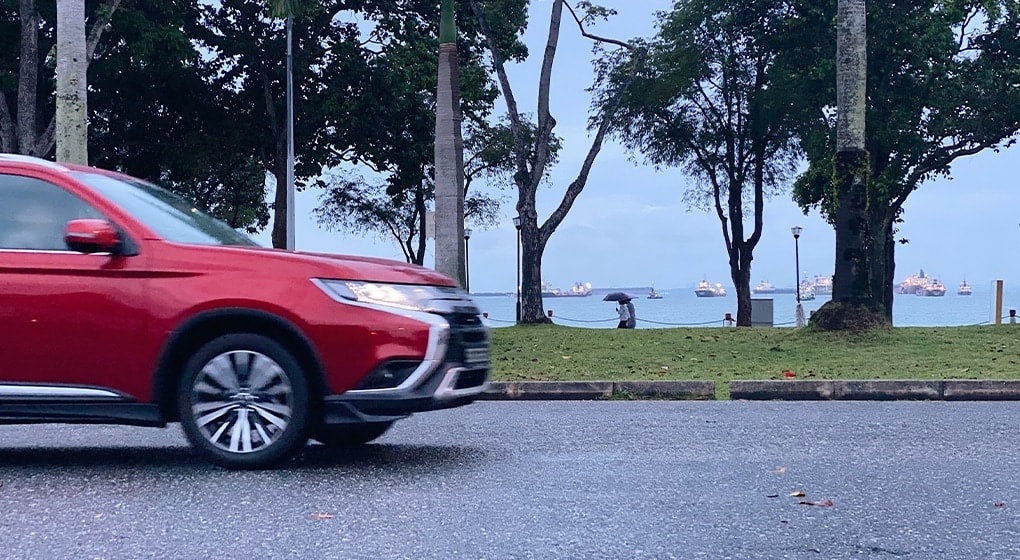 Designed with safety in mind, the Outlander handles the road well even on rainy days.
And how does the Outlander fit seamlessly into your lifestyle?
I love the versatility of the space and I love how Apple CarPlay syncs with my phone to assist me with replying to messages, playing my favourite songs, and generally making life very simple when I'm on the road and I need to keep my hands on the wheel and eyes on the road.

As a busy mum with my kids being my priorities, the Outlander is like our safe home away from home. Even its road handling on a rainy day made me feel we were in safe hands. We napped, we had a picnic, we sang, we had conversations…it was such a precious weekend in the Outlander. Thank you, Mitsubishi!