[This article was first published on straitstimes.com]
The Mitsubishi Eclipse Cross has just undergone a majore makeover, but is still the most competitively priced model in its segment.
SINGAPORE - Facelifts can be minor nips and tucks or major makeovers. The Mitsubishi Eclipse Cross has just undergone the latter - three years after it made its debut here.
The revised car is 140mm longer at 4,545mm, with the additional length going to a new front bumper assembly incorporating a new grille and new lights, and a rear which does away with the original's split-glass tailgate for a more traditional one.
Its width (1,805mm), height (1,685mm) and wheelbase (2,670mm) remain unchanged. The drivetrain is similar too, with a 1.5-litre inline-four turbo paired with a continuously variable transmission. As before, steering-mounted paddles allow you to regulate revs in eight programmed "gears".
But this time, the engine has been tuned to meet stricter emission standards here. Hence, its torque band is significantly narrower, with the peak arriving later at 2,400rpm and tapering from 2,500rpm.
Power, however, remains unchanged at 163hp. The car weighs slightly more now, possibly on account of the additional length. Together with the new torque curve, the car takes 9.7 seconds to reach 100kmh - up from 9.3 seconds previously.
Fuel consumption has also crept up slightly to 6.9 litres/100km - from 6.7 litres. Top speed remains at 200kmh. For this test drive, the car averages 7.7 litres/100km, or around 12 per cent higher than stated.
At the wheel, the facelifted Eclipse Cross does not feel very different from its predecessor. Its torque deficit is not overly pronounced and the car still gets to a gallop fairly briskly. Once there, it coasts with very little effort.
The mid-size Mitsubishi still moves somewhat like an old-school sport utility vehicle (SUV), with body movements which are a tad more noticeable than before. To its credit, the steering is reasonably sturdy and it is easy to keep the car in a straight line at higher speeds with minimal correction.
Its throttle, however, is a little starchy initially. Once you get past the first few degrees of travel, it becomes more responsive. The car also has a user-friendly set of switches for its cruise control.
The cockpit is friendlier, with an 8-inch infotainment touchscreen which can be connected to Apple and Android phones. This replaces the previous touchpad control. It has a semi-digital instrumentation panel, but there is no more head-up display.
It still gets an electronic parking brake with auto-hold. And both front seats get motor-actuated adjustments (only the driver's seat had thispreviously). Besides front and rear parking beepers, the car now has 360-degree camera for more precise parking guidance.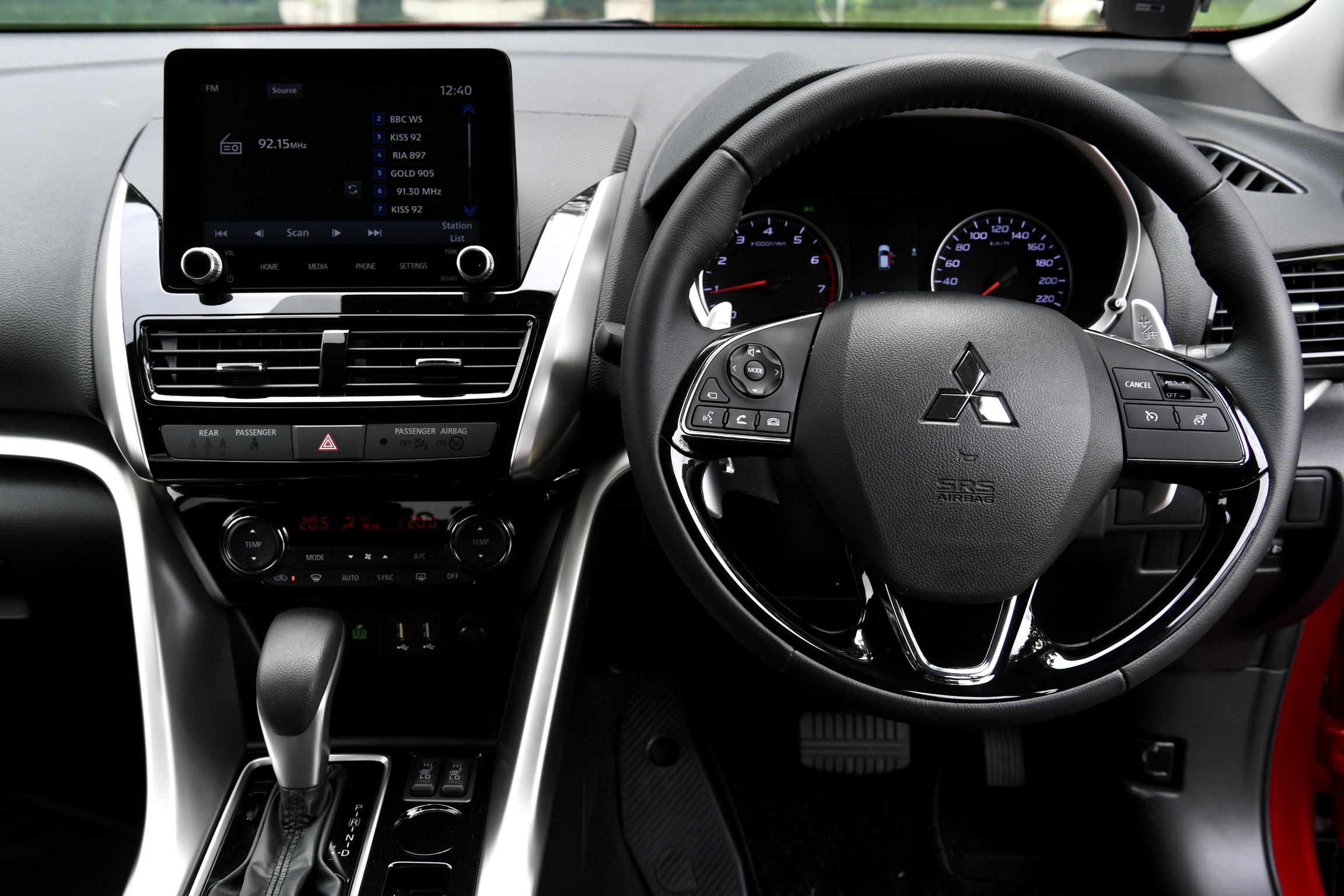 The new Eclipse Cross' steering is reasonably sturdy, and its cockpit comes with an 8-inch infotainment touchscreen.
The Eclipse Cross does not have modern gizmos such as wireless phone charging, blind-spot monitors, lane-keeping assist or adaptive cruise control. So, it is one of those cars which still require a good dose of driving proficiency.
Despite all the changes, its interior is still a tad dated. But it packs plenty of utility. You will find handy and spacious storage compartments on board, USB ports, 12-volt outlets, reclinable rear seats and, most importantly, plenty of space.
The car's roof slopes towards the rear to give it a coupe-like silhouette. This starts gently after the B-pillar, with a sharper descent at the C-pillar. This means a taller person getting into the second row will have to duck.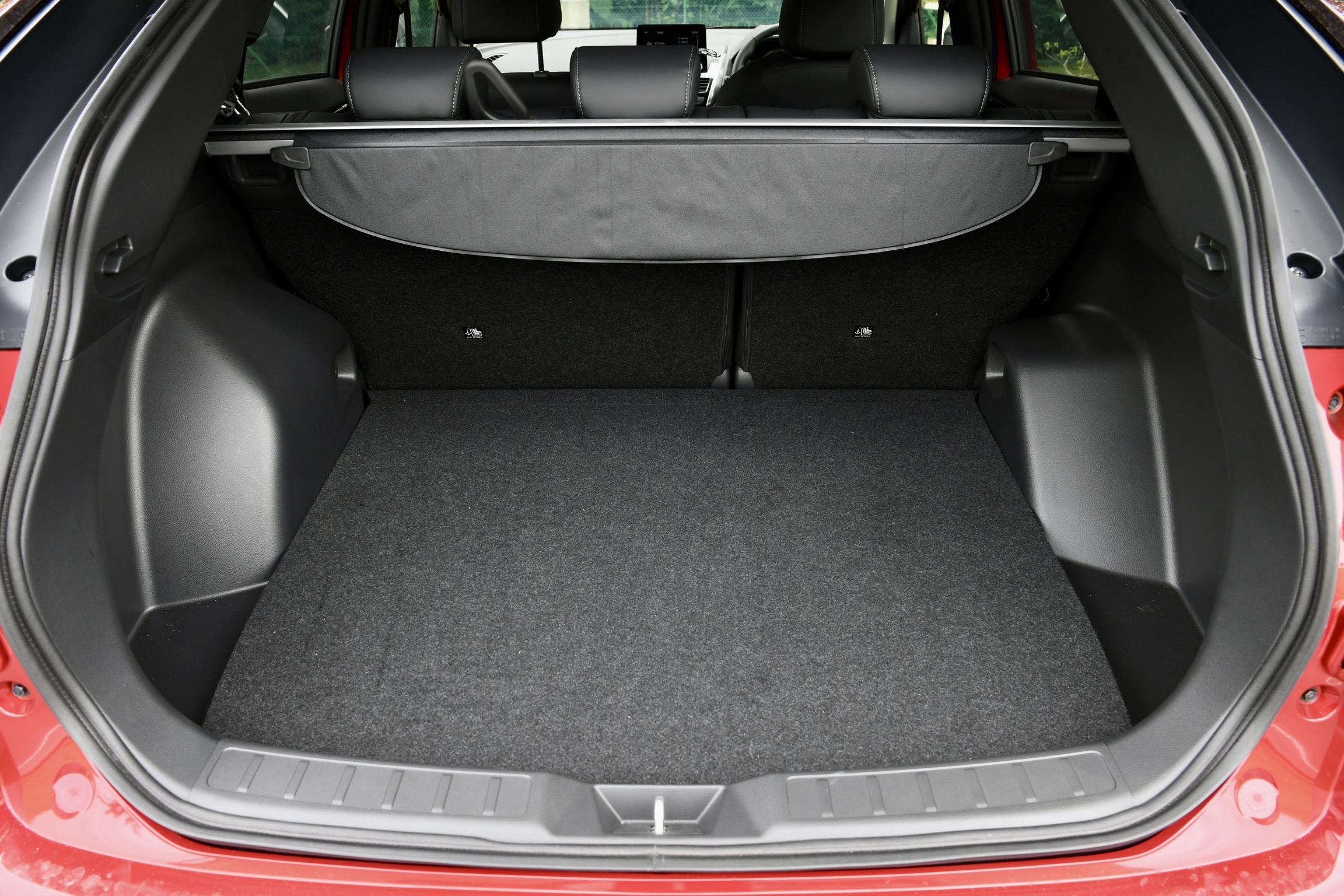 The car offers decent boot space.
But once seated, headroom is aplenty. Boot space is also decent, while the heavy tailgate is still fully manual.
The Style variant tested is better equipped. Extras include LED headlights, bigger wheels (18 inches instead of 16 inches), phone pairing, front and rear parking sensors, a 360-degree camera and an electronic parking brake with auto hold function.
With its matt-black grille and new ensemble of lights, it looks more rugged. Doing away with the split-glass rear also makes the car look more like an SUV - instead of a tall Toyota Prius.
And like the pre-facelift car, it is also the most competitively priced model in its segment.
Book a test drive to experience the Mitsubishi Eclipse Cross now!
[Source article: straitstimes.com/life/motoring/car-review-facelifted-mitsubishi-eclipse-cross-gets-rugged-looks-more-features]
The Straits Times © Singapore Press Holdings Limited. Permission required for reproduction.