[This article was first published on carbuyer.com.sg.]
The Mitsubishi Attrage is still as cheap as a Japanese car gets in Singapore – is the bottom line still a viable choice in 2020?

The Mitsubishi Attrage has been facelifted and it's still the cheapest Japanese sedan you can buy here. That's the S$70,000 question right there: Either you've already decided to buy one or take the bus.
We're kidding, but not entirely, and it's certainly not an easy question to answer.
The Attrage is an uber-affordable compact sedan that has managed to thrive in an era when the East Asian compact car market has mostly tanked – how many current-gen Toyota Vios-es have you seen on the road lately?

Plus, it's not as if competition is plentiful on the ground either, unlike other segments.
Have S$100k to spend? Easy, buy a small sedan or small SUV. Have S$140k to spend? Get a mid-sized SUV. Recommendations at those price points are easy.
It's very different if you only have S$70k to spend: You can buy new, but what about opportunity cost, second hand cars, resale value… wait are you sure you really want a car at that price? In specific case of the Attrage, let's find out.
And even if you think budget cars aren't really relevant here, not only does the Attrage give us a great idea of what to expect from all other cars on the market, there's also S$20-million proving you wrong.
Design and Appearance
The Attrage receives a facelift, so its basic dimensions and concept remain unchanged. It looks like a compact sedan alright – a large, bubble-like glasshouse (that's the window section) and modest three-box sedan shape. No boats rocked here.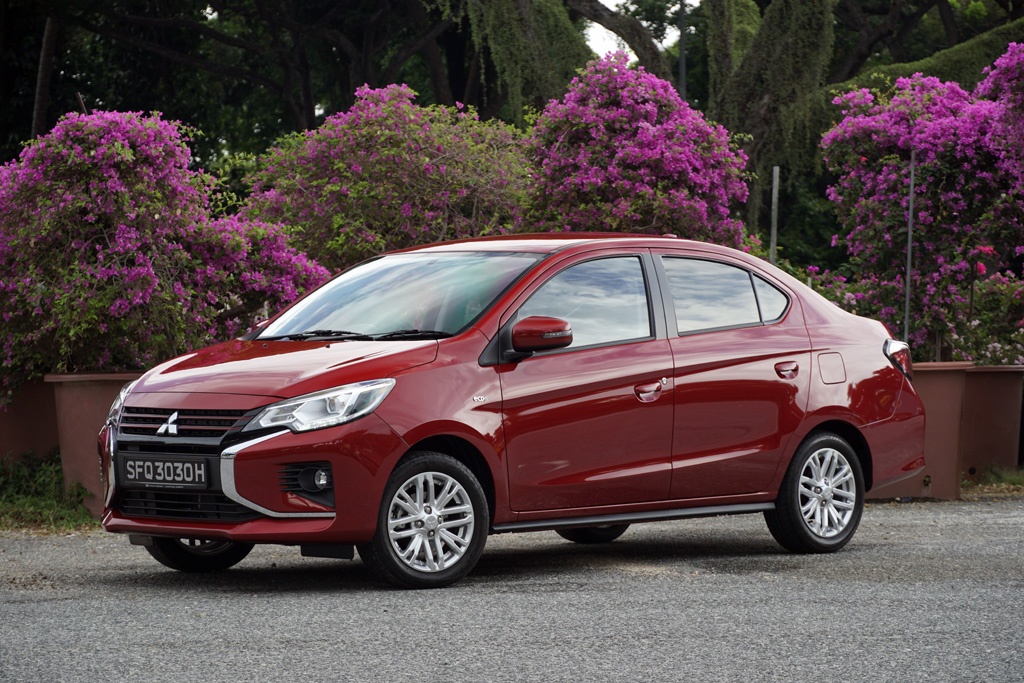 In front, it now has the New Mitsubishi look seen on the Eclipse Cross SUV with the signature twin, inwards-pointing chrome strips, a darkened grille section, and redesigned LED headlamps with DRL strips underneath.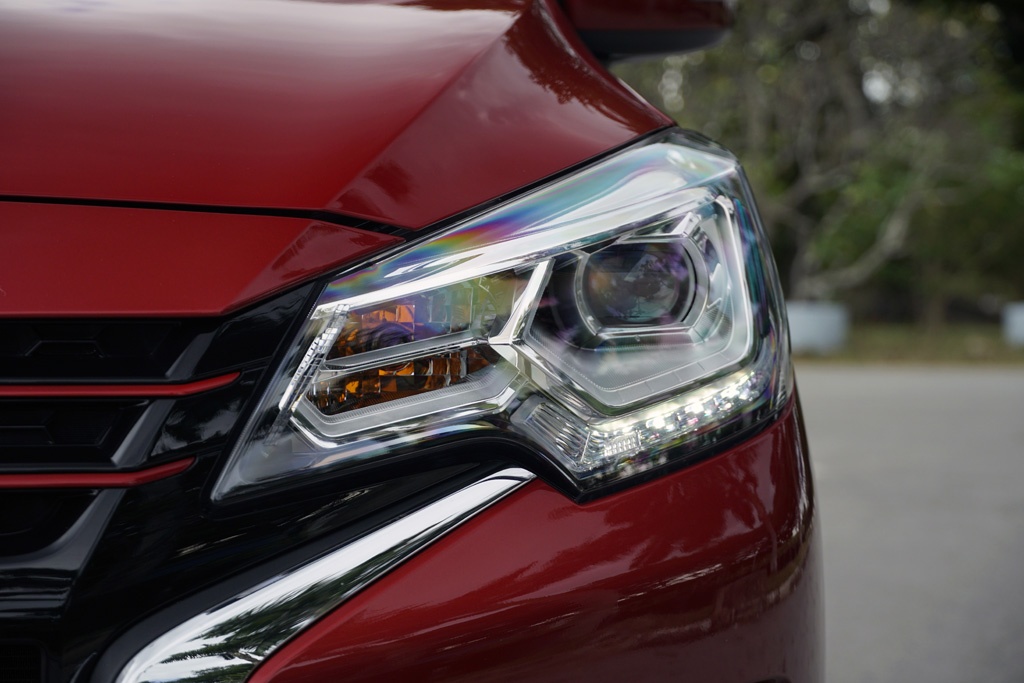 Around the back there are LED taillights to match, they're now ringed by a black 'eyeliner' strip. The car still wears 15-inch wheels, although they're a new design and now silver instead of the previous dark gray colour.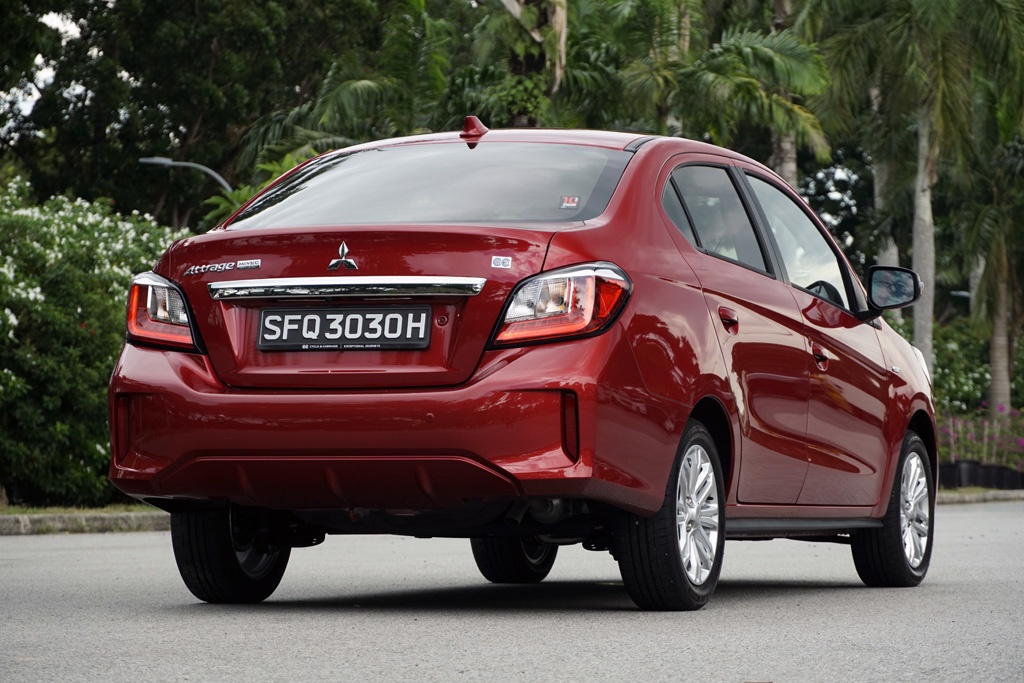 Obviously it won't set your heart alight with desire, but it firmly achieves what a facelift should: Make a car look more attractive and up-to-date.
The Attrage still has that slightly awkward 'boot-grafted-onto-a-hatchback' look, but compact sedans all kind of do, and there are at least good reasons for that.
Interior and Features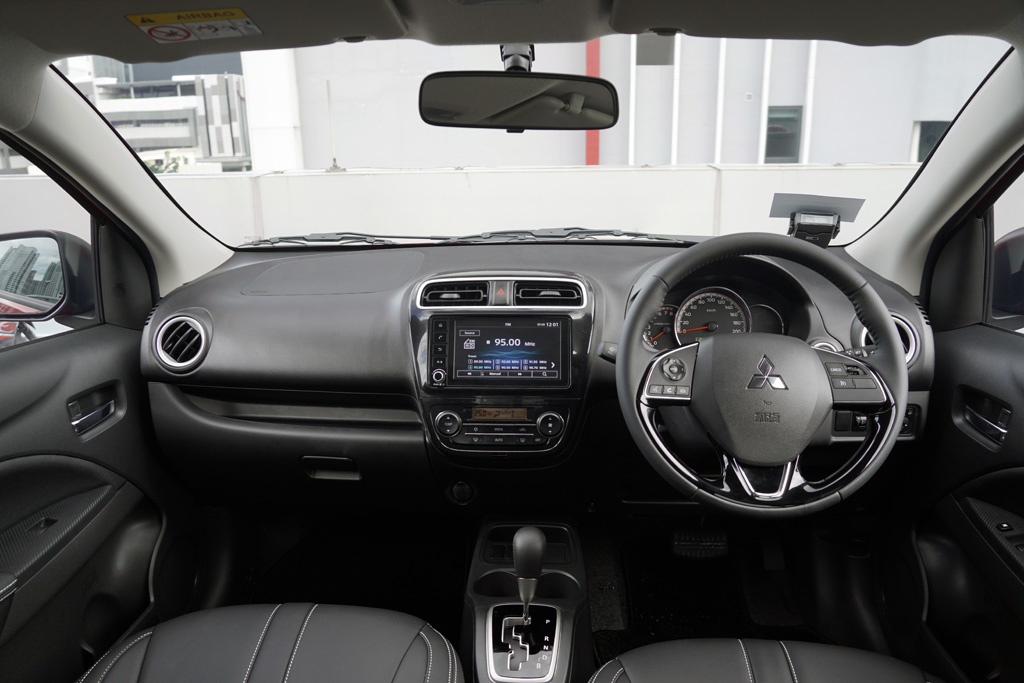 The Attrage's interior looks very much the same as before. It's obviously built to a cost, with lots of hard plastics, switchgear you don't see in newer cars, but it doesn't veer into the sort of utter ergonomic/material disaster we've seen in the very worst of bottom-scraping, built-to-entirely-cost-compromised cars, like budget Chinese cars of a decade earlier – looking at you Geely MK.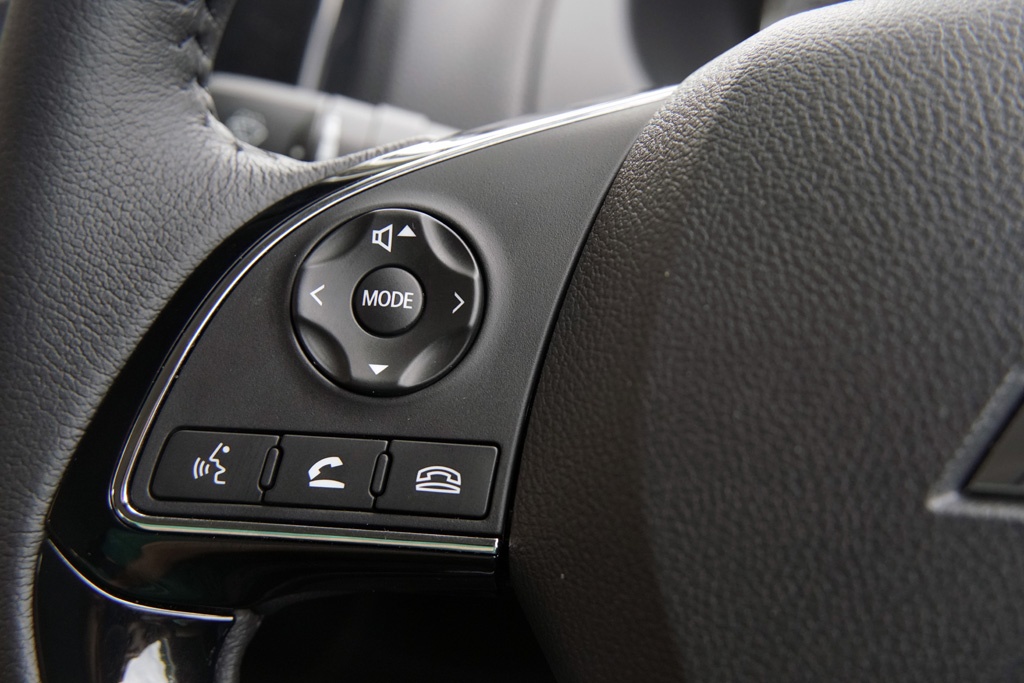 There are some clicky-clacky parts, like the signal stalk and the central armrest cover, but overall it feels well-put together and hard-wearing – you won't shed a tear if junior decides he is now in fact John Bonham and the Attrage is his new drumset. There is a difference between being budget-built and outright badly made – and the Attrage certainly isn't the latter.

We also expected a 'pay bottom dollar = do everything yourself' type deal, but that's not the whole story here either. While the seats, lights, mirrors, and wipers are manual, and you can only adjust the steering wheel position up or down, there are some notable additions to convenience and comfort: Keyless entry/start, a boot release button on the outside, and LED lights, even a USB port.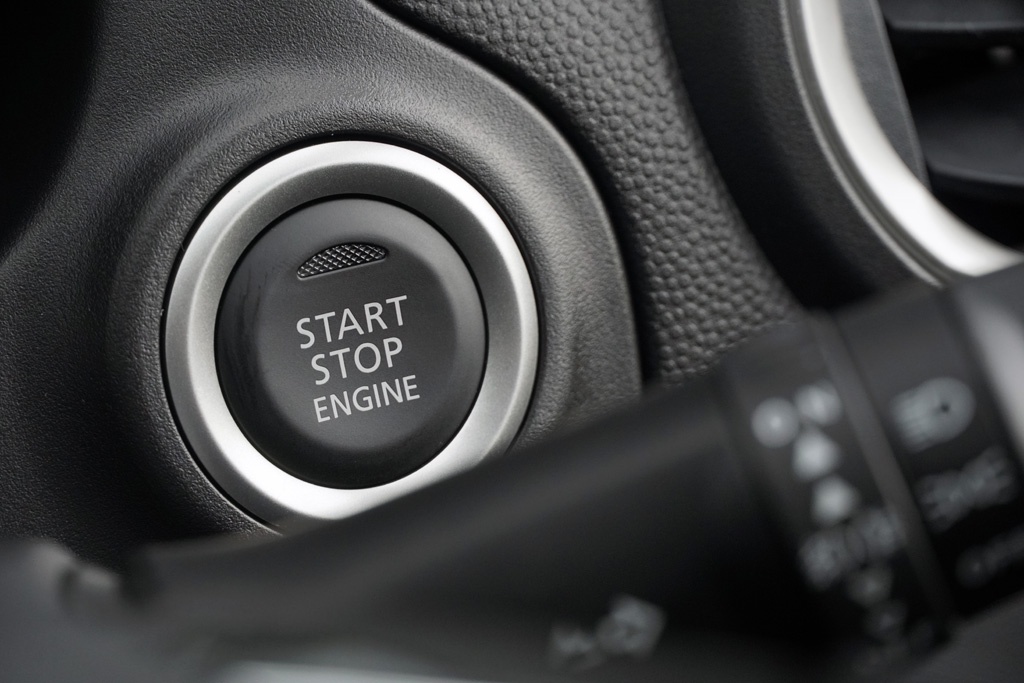 The biggest difference in the new model is that the central radio section, filled with buttons last time round, is now replaced by a 7.0-inch touchscreen infotainment system, what Mitsubishi calls Smartphone Link Display Audio.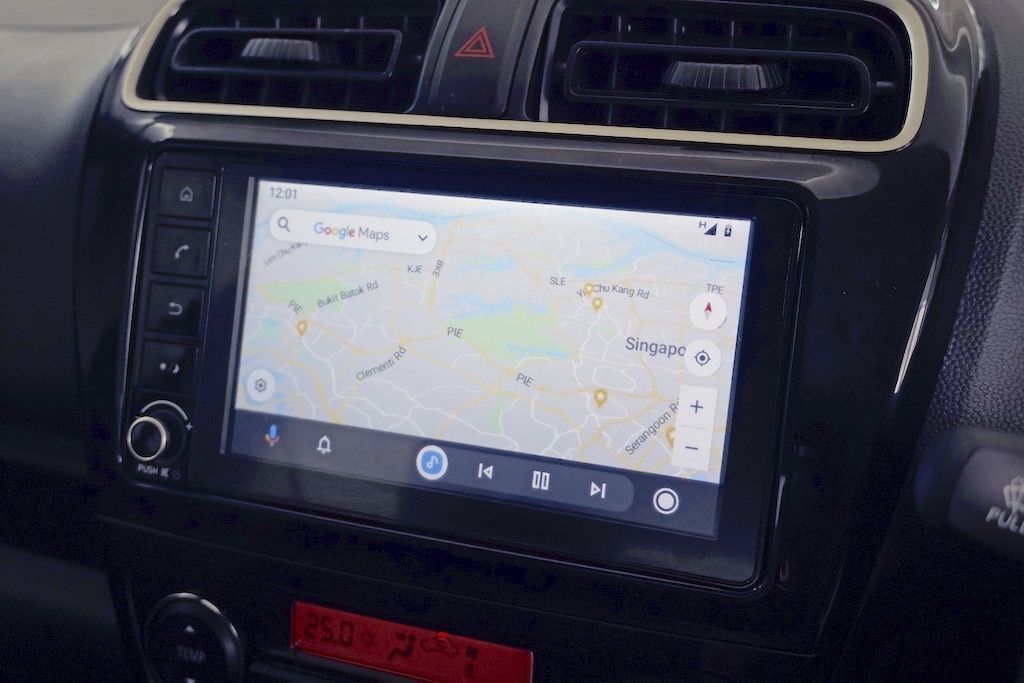 That was honestly not something we expected to find on a budget car. While the system is neither particularly sharp nor bright, it works well – you have radio and Bluetooth, you don't need to press it with extreme pressure like some cheaper infotainment units, and its vertical orientation means visibility is not overly affected by reflections.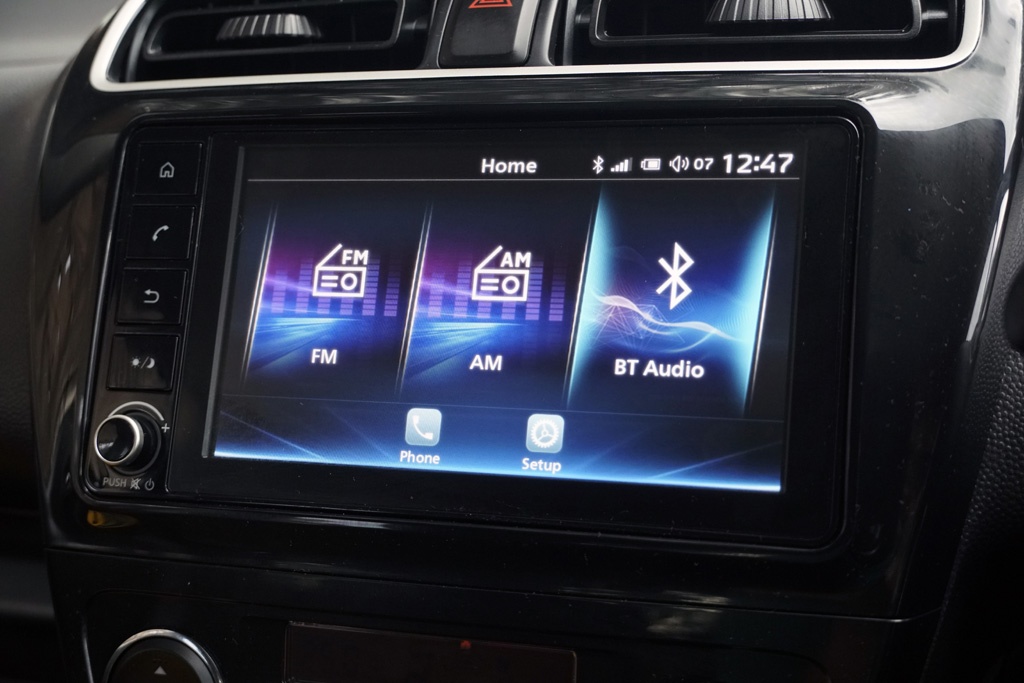 More impressively, it packs smartphone connectivity with Apple CarPlay and Android Auto, which means music, navigation, and more. Android Auto worked perfectly via USB cable. Linking up your phone also means you can press the Voice button on the steering wheel controls and use Google Assistant while driving. With the presence of this sort of tech in the Attrage, all other cars will have to up their game too.
Driving Experience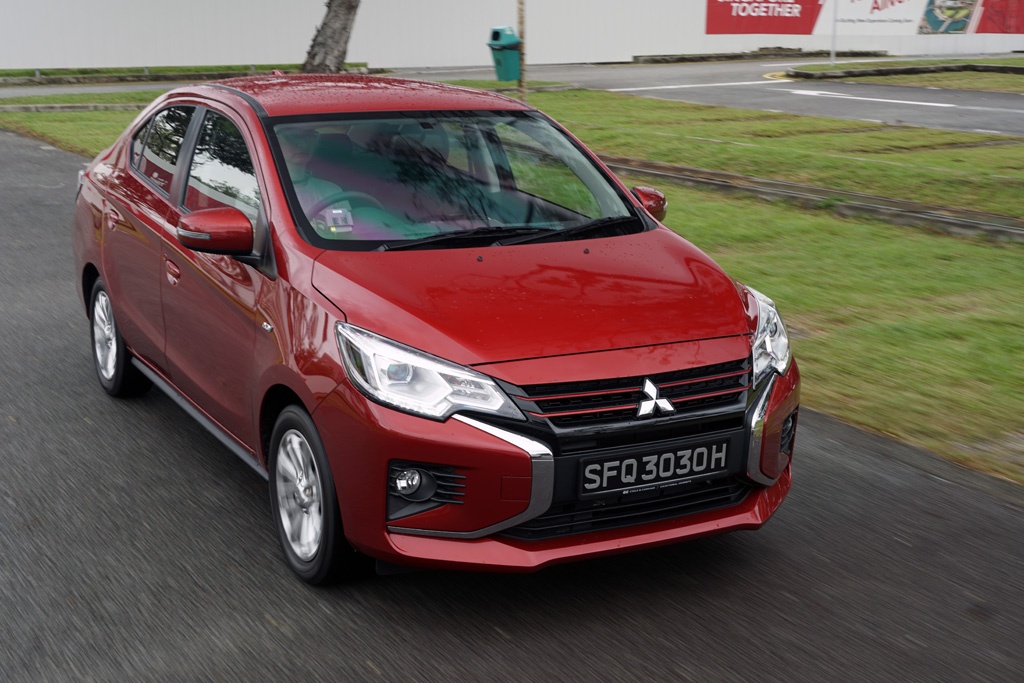 You probably already know this but: Don't buy a budget sedan if you enjoy driving. In fact, unpopular opinion here: If you like wheel thrills, forget cars below S$100k and get yourself a nice, fast motorcycle to scare yourself silly on a regular basis.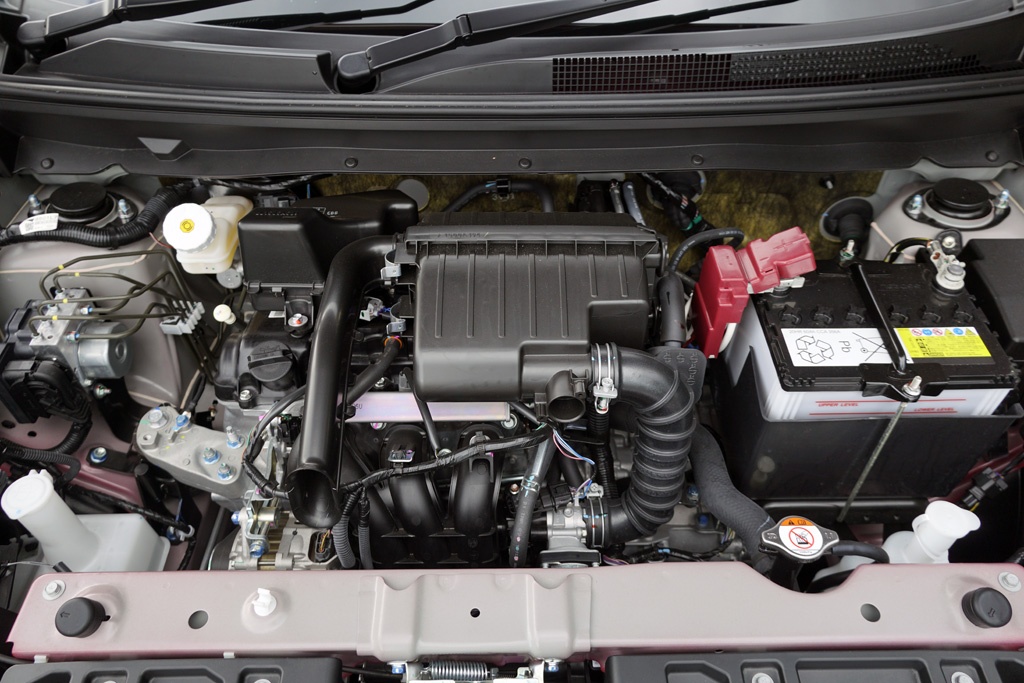 You simply can't expect much by way of refinement and performance at this price level, and the Attrage proves it. The 1.2-litre triple cylinder engine remains unchanged, making a very modest 80hp, paired with an economy-focused CVT. Press on the gas pedal, there's a momentary pause then an undignified roar as the engine revs up.
Progress is always gradual in the Attrage – 0-100km/h in 13.3 seconds – and it's not particularly pointable, the steering feels slow to centre, there is a lot of body roll. While the suspension handles bumps decently, it loses composure when things get rough. At urban speeds, it behaves well, but high-speed commuting is certainly not its forte, with lots of wind and tyre noise above 80km/h.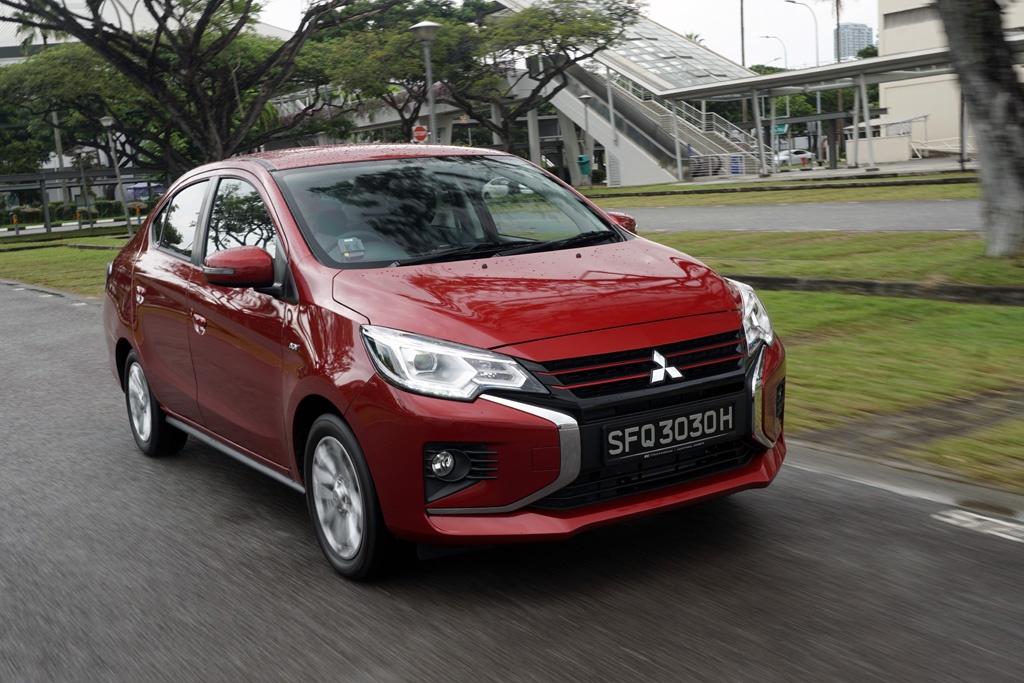 On the bright side, the car is very easy to drive, and if you can't drive it well in an urban environment you should probably just Grab everywhere instead. Its reactions are gradual, predictable, and gentle, and you would have to work very hard to get into trouble with this car (parents on the look for a first car for junior take note).
Like other compact sedans, the Attrage has large windows and a tall default seating position, which spells for good visibility. It actually almost feels like an SUV, since you're perched quite high – the downside is tall people above 1.7-metres may encounter limited headroom, since the seat (via its manual adjuster) doesn't go very low at all.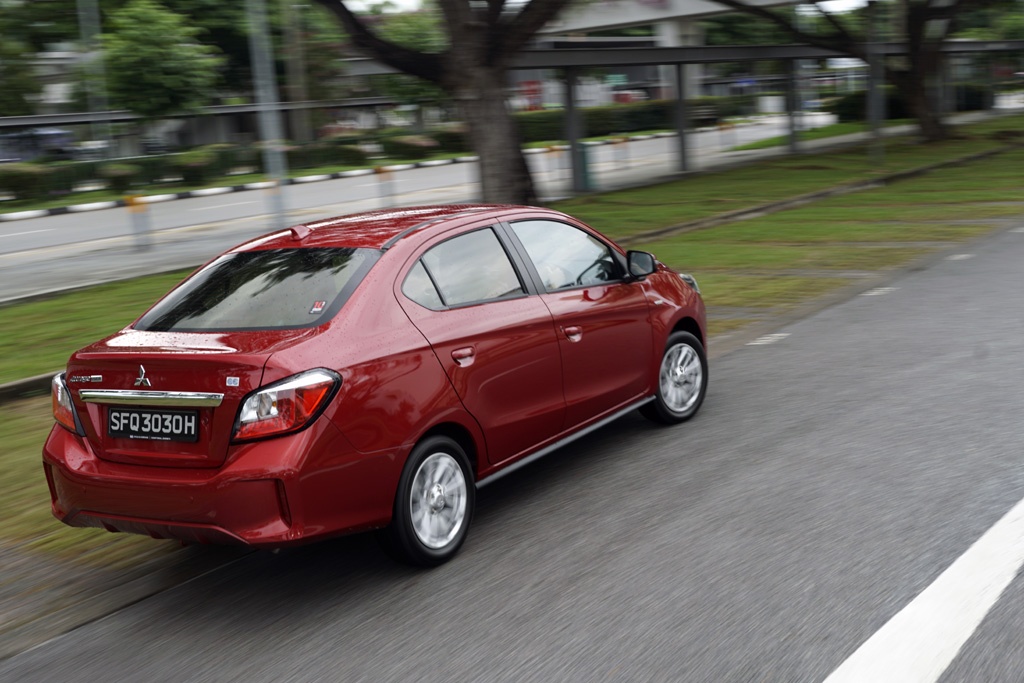 Pair that with a vehicle of modest dimensions, with a tiny turning circle, and you can see that the car's quite a handy drive in town. HDB carparks are a cinch, tight roads equally so. A parking camera is standard and helps lots, but even then, the Attrage is the sort of car that most people could park easily without it.
Space and Practicality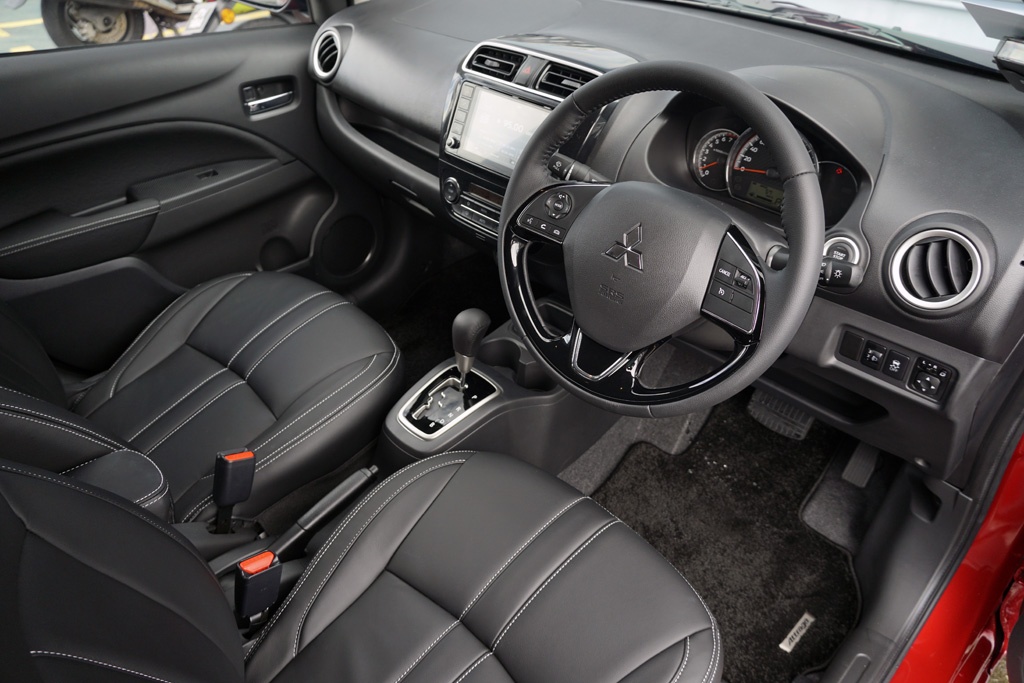 One of the key draws of the Attrage remains the amount of space it has.
For a compact car, there is quite a lot of room inside and it feels more like a car a size up, a result of the tall roofline and bulbous middle-box out of its three-box shape. As long the people are average-sized, the car will fit four without anyone having to scrape elbows or nudge. Having five onboard is doable, but it won't be comfortable. Headroom in front is excellent, while a sloping roof means it's only decent in the rear, rather than excellent.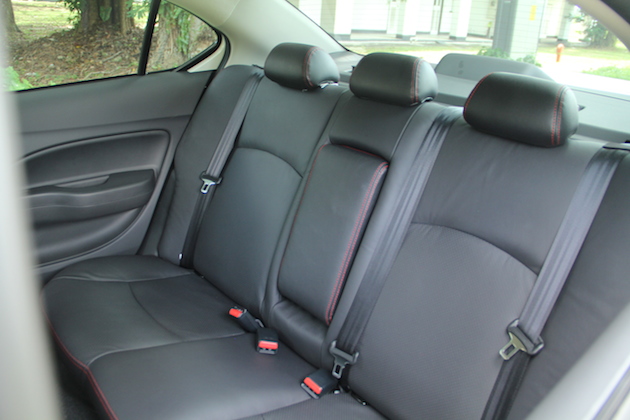 The boot is a spacious 450-litres without the seats folded up (that's far larger than a Suzuki Swift or VW Golf) even if the wheelarches do protrude into the cargo space a little. You can fold the seats down but the through-load aperture isn't particularly large so don't plan on carrying long cupboards, for instance.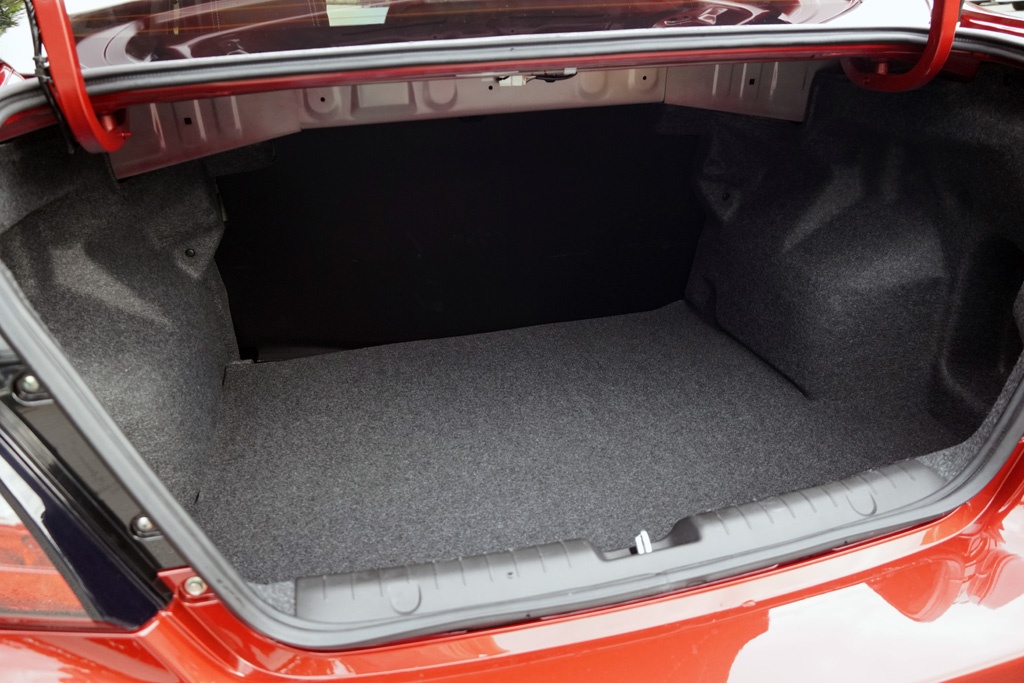 The Attrage platform isn't new, but we can't say anything conclusive about its crash-safety as there are no Euro or Asean NCAP results for it. Mitsubishi says the car has the Reinforced Impact Safety Evolution (RISE) body construction. On paper it looks to be quite safe, though: For a budget car it has a surprising number of airbags (six) and ESP is standard.
The sub-tonne weight of the car and the modest engine also mean the Attrage is a fuel-sipper. If you don't emulate a Lancer Evolution driving style, it'll deliver around 6.0L/100km, which is a good result considering it has no tech-aids like start-stop at all.
Competition and Pricing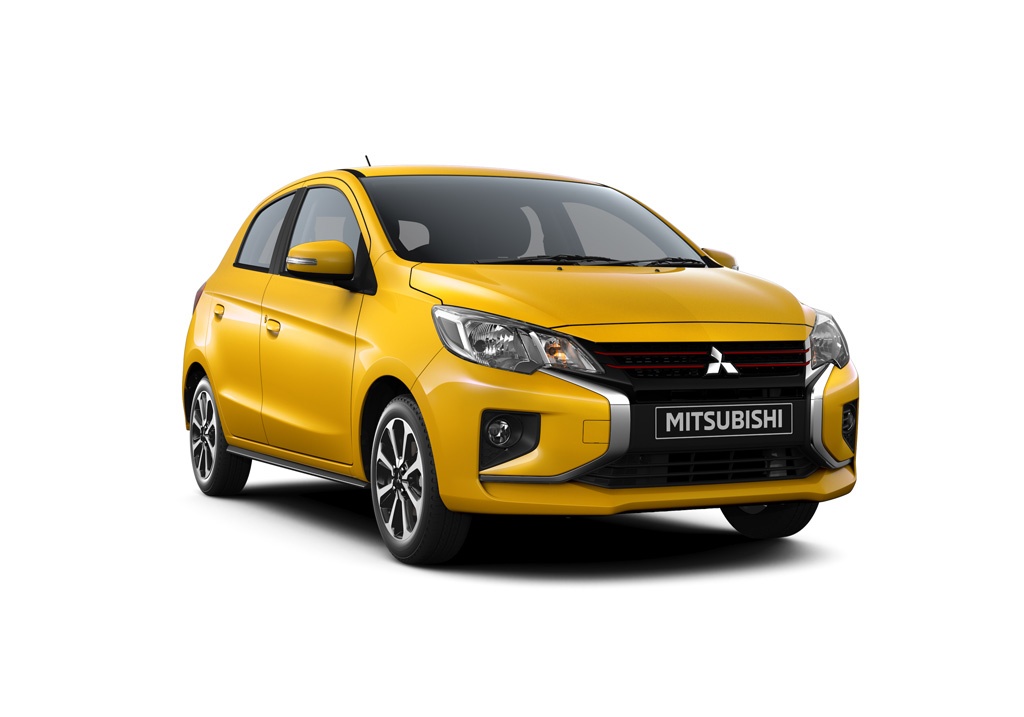 While the Attrage is a compact sedan, its competition is more price-based than by segment. The new Honda City is also a compact sedan, but costs more than 25 percent more, for example. Hyundai's Accent is a a solid choice but costs S$76k with COE now.
At an identical price, the Mitsubishi Space Star is essentially the Attrage in hatchback form – most people will go for the sedan #becauseSingaporeheartsedans. There's also the Nissan Note, which has similar performance and driving performance, but is slightly smaller, but doesn't have smartphone connectivity.

The Attrage isn't the cheapest sedan you can buy here – that title belongs to the Perodua Bezza, roughly S$5k less, which has a 90hp 1.2-litre engine, but also has a smaller footprint and is likely to be less spacious.

As we said at the start, the nature of the budget car market is that the Attrage is not necessarily competing only against new cars, but used cars too, and pretty much whatever the personal opportunity cost of S$70k is.
But even without ride-hailing companies looking for an inexpensive car to run, the Attrage seems to have the right combination of attributes: Mitsubishi Singapore says it's sold around 300 of them this year, which makes for S$20-million worth of sales, and this is in a year without ride-hiring apps adding Attrages to their fleets.
Video Review
We go in-depth with our video review of the Attrage – find out what it looks, sounds, and feels like on the road in Singapore.
Conclusion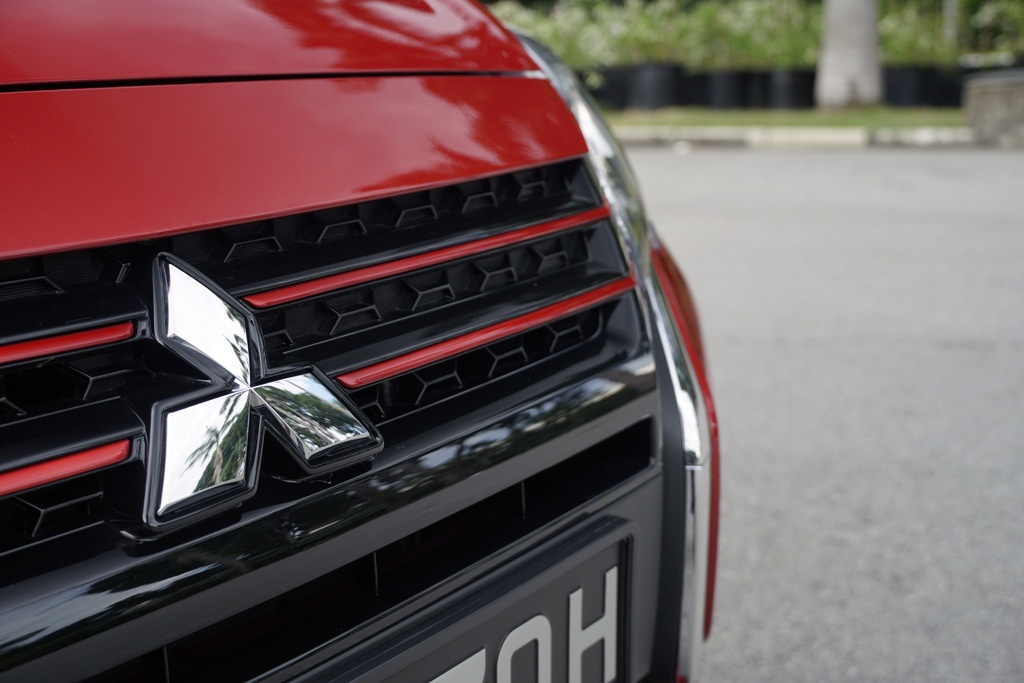 The Attrage's game is sheer affordability, but in Singapore buying a car is never the entirely rational decision to make. With the rise of much improved public transport, not to mention ride-sharing and ride-hailing, that's even more true.
The nature of budget cars have changed too – the Attrage driver needn't necessarily be a retiree who wants no-frills motoring, but even a Gen Z or millennial who isn't as concerned with conspicuous consumption.

But, ignoring opportunity costs, what-ifs, and assuming your budget is S$70k for a car: The Attrage delivers a surprising amount of features for the money. It's not the fastest, nicest thing to drive, But the Attrage has space, delivers plenty of features, and even throws updated safety into the mix.
The Attrage is not an outrageous bargain – no car in Singapore is truly – but it delivers solid value for the price.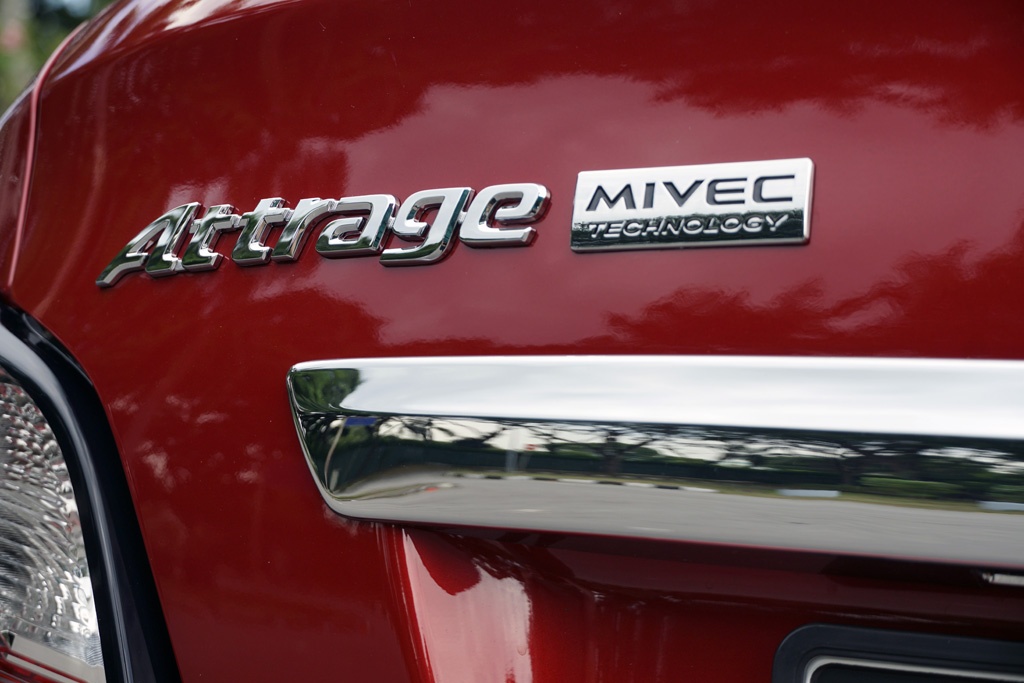 [Source article: carbuyer.com.sg/2020-mitsubishi-attrage-review-the-s70k-question/]